Nowadays, girls are not second to anyone in any field, whether education or sports. Young Anmoldeep Kaur stands tall as a shining example of their extraordinary potential.
Anmoldeep Kaur, an aspiring athlete from a small village called Patran in Patiala, Punjab, has been making waves in sports due to her exceptional talent and hard work. She is an 11th-grade student at Akal Academy, Seona, Punjab studying under the EducateToSave scheme.
Fostering Excellence at Akal Academy 
Akal Academy Seona has played a vital role in shaping Anmoldeep Kaur's sports journey, enabling her to grow and flourish. Coach Roshan Lal at academy recognized Anmoldeep's passion for sports early on,  and encouraged her to pursue it seriously. She received unwavering support, guidance, and motivation from the staff and teachers Ex Principal Sumit Ma'am and current Principal Sukhwinder Kaur. Under the guidance and support of her teachers, Anmoldeep took up sports seriously and started participating in various tournaments. 
Even during the lockdown imposed due to the outbreak of the COVID-19 pandemic, the Coach provided her training virtually so that she could stay fit and keep practicing at home.
Unwavering support by her Parents despite difficult times
Anmoldeep Kaur's mother, Ranjit Kaur, was a teacher in a private school before the outbreak of the pandemic covid. However, due to non-payment of her salary on time, she had no option but quit that job. Now she does stitching clothes for her livelihood. Her father, Satwinder Singh, is a Driver. 
Anmoldeep's mother rented a room near the sports practice ground, to overcome issues due to restricted travel during the Covid lockdown. Despite the family's difficult conditions, she did this to ensure that her practice sessions were maintained.

After the lockdown ended, the parents' support and Anmoldeep's determination and hard work paid off, when she clinched 1st in the 100 meters race competition at War Heroes Stadium, Sangrur.
More Achievements and Accolades
Recently, Anmoldeep attended a 15 days talent identification and assessment camp at Netaji Subhash National Institute of Sports, Patiala. 
At the young age of 12, she participated in State-level competitions and even won positions against players who were senior to her. Since then, she has participated in various National level and State-level competitions, winning medals and accolades.
She recently participated in the Youth and Sports Promotion Association India (U-10, 12, 14, 17, 19) and Open Punjab Junior Federation Cup Athletics Championship Under – 20, where she secured Top Positions in various races.
She has won medals and top positions in competitions, including the CBSE state, Punjab Junior Federation Cup, and Youth Games Open State Championship.
Her impressive timing and consistent performance have earned her a spot in the upcoming National Federation Cup Juniors (U20) Athletics Championships and the Asian U20 Athletics Championship.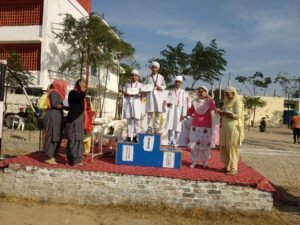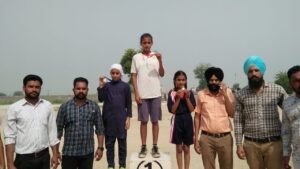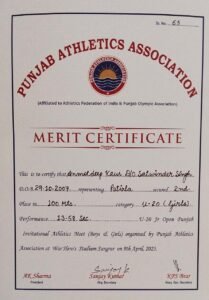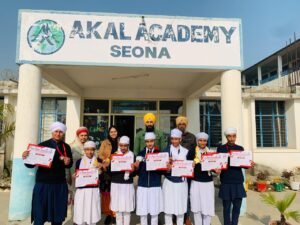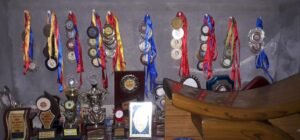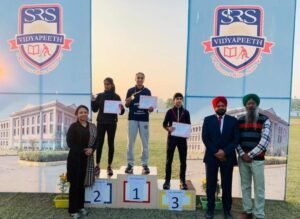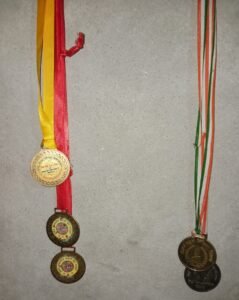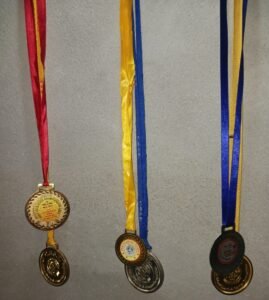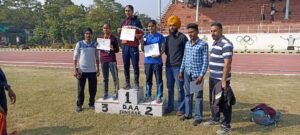 She secured 5th Position in the State Open Punjab Athletics Championship, stood 2nd in 100m and 4th in 200m in the State Open Junior Punjab Athletics.
She achieved 1st Position in the 100m race in Youth and Sports Promotion Association (YSPA) India and was selected for the National YSPA.
She secured 1st Position in the 100m race, 2nd in the 200m race, and 1st in the 4*100 relay race.
She also participated in CBSE Cluster at the National level.
Anmoldeep is good  not only in sports, but studies too, and has secured 73% in CBSE Grade 10th Results.
Anmoldeep's Role Models and Dreams
Her role model is Usain Bolt, the fastest man in the world. Anmoldeep used to watch his videos which inspired her. Just like him, she also wants to earn the title for becoming the fastest runner,  and earn an Olympic Medal for the country. 
Her mother is also her inspiration as she has always supported her, going great lengths to help make her daughter successful.
Anmoldeep also wants to clear UPSC and become an IPS officer.
She also wants to serve society by becoming a social worker and making her parents proud. 
How Kalgidhar Trust Nurtures Champions
Akal Academies runs under the aegis of The Kalgidhar Trust Baru Sahib, and it is intended to be not just a school, but a place where students' dreams and aspirations are nurtured with utmost care and attention. 
The academy's dedicated staff and management have supported Anmoldeep Kaur throughout her athletic journey, from recognizing her potential in sports to providing the necessary guidance and training to master her skills. Their unwavering support has helped her succeed in competitions and tournaments.
Anmoldeep informs that she now meets various students during her championship and practice, but always finds that Akal Academy students have higher moral values, are spiritually connected, and are highly disciplined. 
Anmoldeep Kaur's journey in athletics is a testament to the school's dedication to providing an enabling environment for its students to grow and excel and that girls can achieve greatness beyond imagination when given the right opportunities and support. 
Anmoldeep Kaur's remarkable journey in athletics serves as an inspiration to many young athletes. Her passion for sports, hard work, and determination have helped her overcome challenges and succeed in athletics.
We wish her all the best for her upcoming competitions and hope she continues to inspire young athletes everywhere.
Know more, Follow, Like and Share: