Jaspreet Singh's Incredible Achievement
Jaspreet Singh, a student of Akal Academy Moonak, has made a magnificent achievement as he is a member of the first young team to play Gatka at Mt. Everest Base Camp. He has made history by marking his place in the India Book of Records and Asia Book of Records.
What is Gatka and its Significance
Gatka is Sikh Martial Arts and is an essential part of the Sikh Culture. It is now also recognized as a sport nationwide.
It originated when the Sixth Master of Sikhs, Sri Guru Hargobind Sahib Ji, adopted 'Kirpan' for self-defense during the Mughal era. The tenth Guru, Gobind Singh Ji, made it compulsory for everyone to use weapons for self-defense.
It is also a form of spiritual exercise in Sikhism..
Gatka is an integral part of Sikh Martial Arts being taught in our Akal Academies.
Many of our students have achieved awards at different levels in Gatka. (<< Click to see)
Know more about Jaspreet Singh' background
Jaspreet Singh is a student of Akal Academy Moonak who hails from the village of Ghamurghat, Punjab. He comes from a humble background, his father is a Granthi Singh in the local Gurdwara Sahib, and his mother is a housewife.
He studies for free under "Educate to Save" at the Academy.
Educate to Save is an initiative by The Kalgidhar Trust, Baru Sahib, to draw support for the children of underprivileged families who are deprived of education. Through this initiative, support is provided to such children to the best possible extent..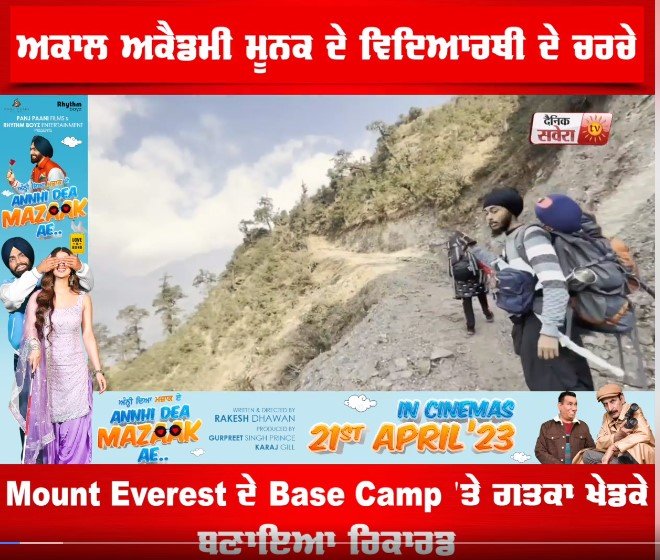 Young Jaspreet Singh's Journey to Mount Everest Base Camp
Jaspreet's journey was a challenging task. Along with his team, He climbed a 75km walking route to the base camp even though weather-related difficulties occurred. But their dedication, and a couple of blessings from the Almighty, kept them going.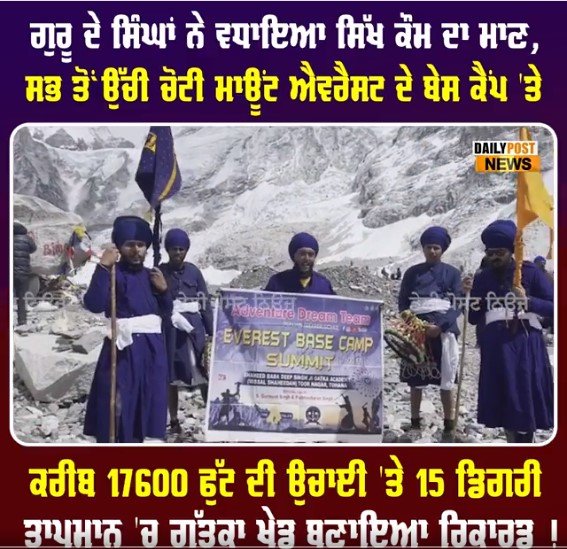 Gatka at Mount Everest Base Camp
Performing Gatka at Mt. Everest Base camp is a phenomenal achievement by Jaspreet and his team. They performed Gatka at 17598 feet, i.e., 5364 meters, with the average temperature minus 15 degrees.
The Gatka was played by 5 Singhs under the guidance of Jaspreet's Coach, Prabhasharan Singh, of "Shaheed Baba Deep Singh Ji" Gatka Academy ( Missal Shaheedan) Gurdwara Toor Nagar Tohana Fatehabad.
Prabhasharan Singh and his 4 teammates – Kuljeet Singh, Jashandeep Singh (armed warrior), Jaspreet Singh, and Hardeep Singh – completed this journey under the guide Gurpreet Singh Faridkot (Punjabi trekker Sidhu).
The Young Sikh's Dream to Climb Mount Everest
Jaspreet Singh's dream is to climb Mount Everest, and this achievement has brought him one step closer to fulfilling his dream.
Akal Academy Moonak is doing its best by supporting him in achieving his dreams. The teachers of the Academy motivate him and make him realize his abilities.
Jaspreet's father said, "We are proud that our son has brought the name of the region to light, and Jaspreet Singh has earned the honor of being a member of the first young team to play Gatka at Mt Everest Base Camp in the whole world.
Jaspreet Singh – A source of inspiration
Jaspreet Singh is a source of inspiration for his Academy, the community, and the nation.
His achievement has proved that you can achieve anything you want if you have determination, dedication, and trust in God.
We are proud of our student Jaspreet Singh. His accomplishment highlights the importance of discipline, training, and determination.
Like and Share the good news