Education is the central pillar of the destiny of society. If we need prosperity for centuries, we must empower people through education.
Nelson Mandela rightly said, "Education is the most powerful weapon you can use to change the world." 
The Kalgidhar Society, Baru Sahib, aims to bring societal change, develop the nation, and empower young minds, by providing value-based education especially to the underprivileged. Value-based education not only brings success but also creates better human beings.
There has been a remarkable shift in the education profile of the State of Punjab. However, it is a major change that has gone unnoticed.
The following article in the Sikh Forum Magazine explains the various aspects of this transformation.
About the Magazine and its Founder
The Sikh Forum Magazine is a publication of the Sikh Forum, founded by Lt. Gen. J.S. Aurora in 1984. The esteemed Lt. General JS Aurora is a Padma Bhushan Awardee and known as the Conqueror of Bangladesh. As a Field Force Commander of the Indian Army, he took the surrender of Pakistani forces at Dhaka from General A.K. Niazi of the Pakistan Army on 16 December, 1971
The Article about Punjab's Transformation
Punjab education: a perspective and way forward
– By Professor Surinder Singh Jodhka and Air Marshal P.S. Bhangu (Retired)
Punjab's surprising educational triumph
An intriguing news made headlines in several national newspapers In the last week of May 2022 titled
"Yearly Status of School Education in States and Union Territories of India."
Punjab, the land of the brave and the bold, recently achieved a remarkable feat. It emerged as the top-performing state in India in a comprehensive report on school education. Surprisingly, it outperformed even Delhi, a city renowned for its educational reforms.
Punjab was hailed as the "top-performing state," achieving a perfect score of 150 out of 150 in the latest report., publicly released in July 2022.
In two critical categories, Punjab excelled with scores of 228 out of 230 for "equity" and 346 out of 360 for "governance processes," positioning it as the leader. Furthermore, Punjab and Kerala shared the top spot for access to educational opportunities, each scoring 79 out of 80.
Punjab schools were ahead of Delhi, which astonished observers in Punjab the most. 
This achievement is not just about numbers; it's about the determination and vision of a community striving for educational excellence.
Punjab's Economic Battles and Bounceback
Early Punjab was a robust, economically developed industry. However, from the 1990s the situation in Punjab deteriorated. Punjab's economy, education, and politics suffered from many issues, and Punjab drowned in debt. Even though militancy ended in the early 1990s, it resulted in the steep decline of Punjab.
Currently, Punjab holds the tenth position in the national ranking. Its youth are drug addicts, streams are polluted, villages are dying, farmers are in dire situations, and many have committed suicide. 
Punjab's True Story is about Challenging Negative Narratives
Negative narratives about Punjab have pervaded the media, often depicting the state in a perpetual state of crisis. Issues such as drug addiction, pollution, and farmer suicides have dominated the headlines. However, these narratives may not paint a complete picture of Punjab's reality. It's crucial to question these narratives and look beyond the surface.
This achievement is not just about numbers; it's about the determination and vision of a community striving for educational excellence.
Punjab's Path to Progress through Educational Renaissance
Punjab's journey towards educational excellence hasn't been a solitary endeavor. The state government has taken proactive steps to initiate educational reforms. Visionary individuals like Padma Shri Advocate H.S. Phoolka and organizations like the Kalgidhar Society have played pivotal roles in transforming Punjab's education landscape.
Baru Sahib (Kalgidhar Society) -Illuminating Punjab's Education Landscape
At the heart of Punjab's educational transformation stands Baru Sahib, a non-profit organization with a mission to provide moral and value-based education, especially among the underprivileged.
It would be incomplete to narrate the story of this transformation without mentioning Baru Sahib.
With 129 schools, 2 universities, besides other important initiatives for drug-deaddiction and women empowerment, it stands a tall beacon illuminating the whole landscape.
The Historical backdrop of Baru Sahib
With a history dating back to pre-partition Punjab, Baru Sahib (The Kalgidhar Society) has grown into a vast educational network that serves as a guiding light for thousands of students.
The Kalgidhar Society has contributed significantly to education and made its mark in the History of the land.
In 1906, Sant Attar Singh ji had the idea of combining moral and contemporary scientific education to create a high level of humanity. He conceptualized the mission statement: "To establish permanent peace in the world through value-based education and spiritual rejuvenation to create good global citizens.
The noble personalities, Sant Teja Singh Ji [M.A., LLB. (Pb.), AM (Harvard USA)], Baba Iqbal Singh Ji, both Padma Shri, set the groundwork for contemporary education, particularly in remote rural areas.
Baba Iqbal Singh has made an immeasurable contribution to the cause of disseminating contemporary scientific and value-based education. In addition to locating the "Tapo-Bhoomi" of Baru Sahib in 1956 under the divine instructions of his teacher Sant Teja Singh Ji, he also assumed responsibility for the children's education at Baru Sahib after retiring as the Director of Agriculture for Himachal Pradesh in 1986. In 1987, Baba Ji oversaw the education of the first group of six students. Baba Ji placed a special emphasis on the education of girls.
Without Babaji's hard work, appeal, and travel within India and around the globe to persuade the diaspora to donate to a worthy cause, building suitable infrastructure across North India would not have been possible.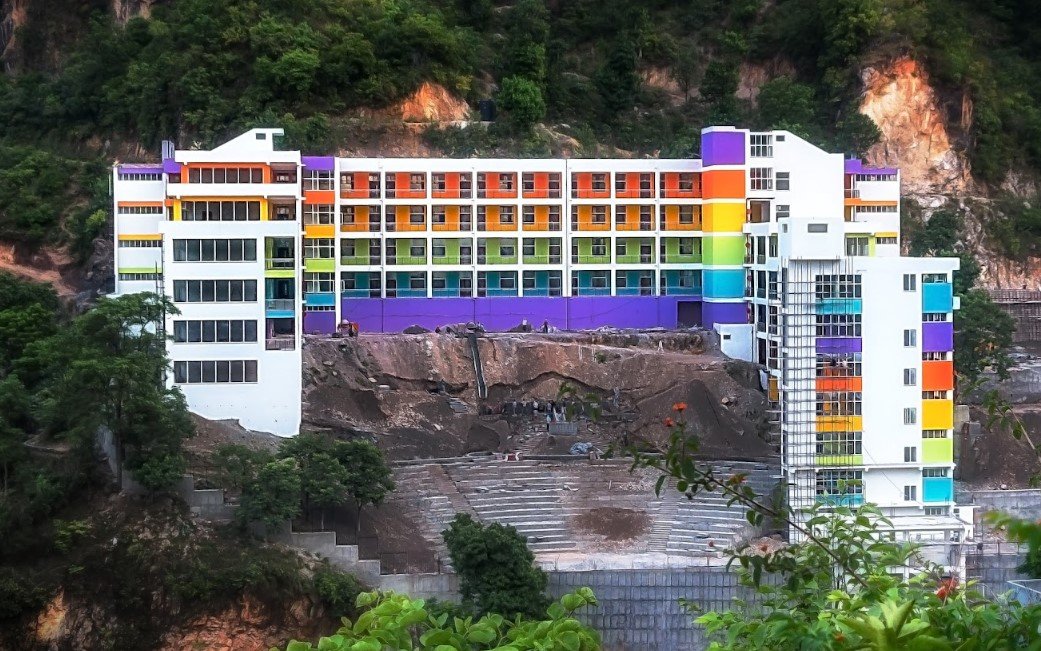 In the beginning, with just six students, the organization has grown to 70,000 students with 129 Akal academies mainly located in rural Punjabi-speaking districts of Haryana, Rajasthan, and U.P.
Out of these students, around 29000 receive free education regardless of gender, race, ethnicity, or religion.  
All the academies have top teaching tools, a pure environment, good knowledge, English medium instruction, and CBSE curriculum. 
Baru Sahib's Commitment to Quality Education
It was decided early on, to commit to high-quality education, As such, it is crucial to identify and choose well qualified teachers. These academies provide high-quality education with excellent staff and hire teachers from all over India. The academies recognize A significant number at the end of the 12th Grade. They are chosen and in-house trained through a robust teacher training program, creating opportunities for the families to receive financial assistance.
The Trust also provides free coaching to students for government exams so that students can start preparing for their upcoming goals. Baru Sahib provides every possible facility by which they can contribute to society. 
The quality of education reflected in students from Akal Academy excelling in competitive exams at the district, state, and national levels. The students have performed well in the NEET, IIT-JEE, NDA, UPSC, and sports programs. The Kalgidhar Society, Baru Sahib, has established itself as Punjab's premier educational institution in North India. 
The administration is now led by Dr. Davinder Singh Ji and highly skilled faculty, who continue to inspire students to increase their competitiveness in all spheres of activity. 
Mobilizing Support for Change with Community Support and Collaboration
When "Langars" emerged during Covid as a savior for those living on the fringes across regions and nations of the world, we saw the same force at work globally.
A Leadership that can focus the community's resources and attention on Sarbat da Bhala is what it currently needs. One such illustration is the educational effort being carried out by the Kalgidhar Society in Baru Sahib. support to one another.
Conclusion
In conclusion, amidst the tumultuous narratives, Punjab's educational journey stands as a testament to the power of resilience and collective efforts. Baru Sahib's transformative role in Punjab's education landscape serves as an inspiring example of what can be achieved with dedication and a commitment to excellence. As we challenge negative narratives and support initiatives that bring about positive change, Punjab's future shines brighter than ever before.There is still a long way to go; therefore, everyone must cooperate while sharing knowledge and offering mutual support.
Contributions 
A publication of The Sikh Forum, founded by Lt. Gen. J.S. Aurora in 1984, just want to say Thank You to the editor Harmindar Kaur, the contributors Dr. Charan Singh, Sodhi Vikram Singh, Air Marshal P.S Bhangu, Professor Surinder Singh Jodhka, Padam Shri Vikramjit Singh Sahney, Dr. P.S Pasricha, Dr. Amarjit Singh Narang, Maj Gen M.S. Chadha, Padma Shri H.S. Phoolka, Ajeet Cour, Harminder Kaur, Ravinder Kaur, Nirmal Singh, concept and designer Corporate Vision, C-20B, Green Park Extension, Basement floor, New Delhi-110016.
We are grateful for your support; we can't reach this point without your consent and contributions.